Spring 2022 is here – the biggest home buying and selling season of the year! In fact, according to realtor.com, mid-April is the best time to put your home on the market… should you be timing your home sale by the data, it's time to pull the trigger.
But for other home buyers and sellers who are still getting ready to make a decision on how and to move forward, let's take a look at some of the questions that may be on your mind as you learn the market, and find out what's going to happen next in this bullish real estate market cycle.
Here are a few hints:
Homes are selling fast and inventory just can't keep up with the demand. We have only 2/3 the inventory right now, that we did at this time last year. As long as homes are in low supply, prices will keep going up.
Now, here are Emily Cressey's real estate market predictions, and my forecast for what's coming next.
More Homes For Sale? Will Seattle See More Housing Inventory This Spring?
When people ask me WHEN they should buy or sell a home in Seattle, WA, I always tell them that we have two major seasons of activity – Spring and Fall. In the winter, things are slower with Thanksgiving, Christmas, and the cold/wet/dark weather. The Super Bowl at the end of February is usually the unofficial start of the Spring Selling Season. Summer is slow because everyone (and their realtor) is going on vacation for the few months when school is out.
Spring has always been considered the "best" time to buy or sell, but times are a'changing and it may be time for that advice to evolve.
With the imbalance of buyers and sellers in the market (many more buyers throughout the year) sellers have begun to realize that they can sell at any time of year and have a horde of eager buyers waiting to make an offer on their home. While many do emerge in Spring, others are out even in winter and summer, because they are hoping to get a deal. Sellers no longer have to wait for Spring in order to get a lot of interest in their Seattle home for sale.
Even if more homes do hit the market this Spring, there are plenty of buyers on the market, too – snapping things right up.
If you're a home buyer, the best way to prepare for this competitive market is to make sure you're ready to move fast, be patient and stay flexible.
I always like to share data on what's happening in the neighborhood and price range clients are hunting in – so they have a good idea of what it takes to be competitive.
Up, Up, Up – Appreciation? Inflation? Why A Housing Prices Rising So Far and So Fast? And How Long Will It Last?
The question on everyone's minds is: Is the Seattle real estate market going to crash? Cool Off? Decline?
Obviously, no one wants to buy at the top of the market, and then see the market fall. We saw how that played out in 2008, and it didn't end well for a lot of homeowners.
However, if you hold off on buying, for fear of a crash, you may end up missing out on hundreds of thousands in equity growth, or get priced out of the market all together. Many of first time buyer clients come to me with a tale of woe: "We wanted to buy a house last year, but we thought they were too expensive. Now, prices have just gone even higher, so we realize we need to buy a home now, before we can't get into something we like!"
Before I explain my predictions regarding a "market crash," let me explain what's driving the current housing boom
First, Millennials: This is a huge demographic "bulge" – a larger group than the Baby Boomers who were the trend setters of the last decade. The Millennials are now ready to buy their first homes, have children, and get out of apartments/condos.
With both Millennials and Gen Z now in the buyer group, there isn't enough existing inventory to keep up with the number of would-be homeowners out house-hunting.
Second, builders didn't build enough homes in the last decade to keep up with the demand.
This leads us directly to our next big question.
Essentially, this has lead us to a housing shortage. More people would like to buy, than there are homes for sale. In fact, here in the Seattle area, most homes are being sold in less than a week, often with multiple offers on the table. When demand is so much larger than supply, prices go up and homes are sold to the top bidder.
So… this brings me to the next question – are prices going to keep going up? Or will there be a downturn in the real estate market?
Will The Seattle, WA Real Estate Market Crash in 2022?
If you look at the charts – you can see a run-up in housing prices over the last couple of years, similar to what we saw in 2005 and 2006, before the eventual real estate crash in 2007 and 2008.
So, is this market the same as that one?
Not exactly. In the early 2000's, we saw BOTH high inventory and high demand. Now, we have high demand, but not the inventory to meet it.
What do the experts say? Earlier projections of more modest increases in housing values in 2022, have been up-regulated by top industry experts who are now predicting another year of above-average price appreciation.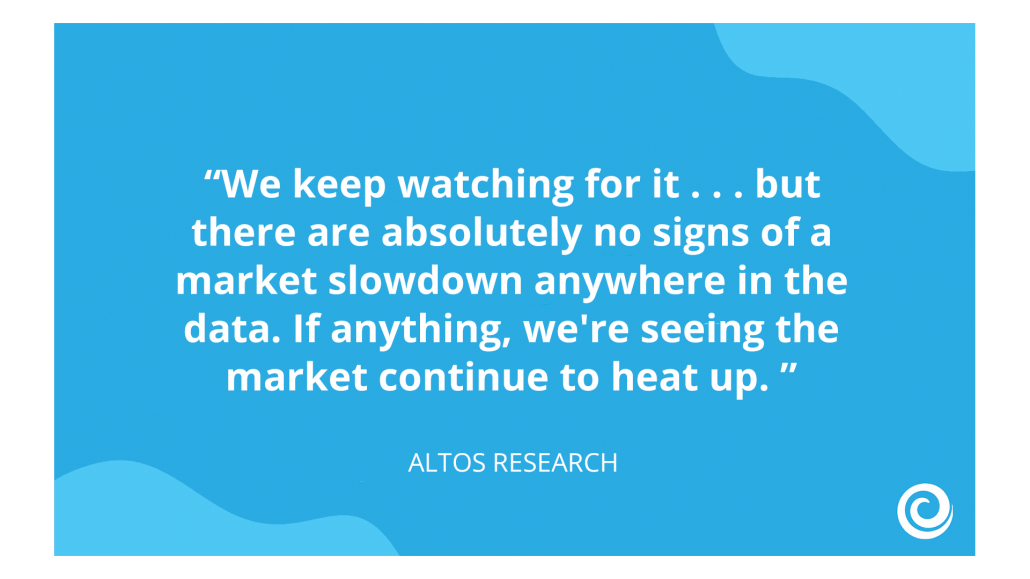 How Will Rising Inflation Impact The Seattle Housing Market?
I have been banging the drum on inflation for several months now. This higher than usual inflation rate is having a deleterious affect on our wealth, but contributing to the apparent rise of the housing market, as all prices go up.
The question we need to ask is… are housing prices rising faster than the inflation rate? This differential represents true price appreciation. The answer in the Seattle, WA market is yes – we are seeing strong appreciation here, over and above the inflation rate.
Inflation means higher prices and product shortages, and we're seeing it everywhere: At the gas pump, the grocery store, the appliance mart, and every car dealership. We're seeing it in the housing market , too.
We've seen this cycle before, too. If you don't remember, ask your parents. Look back to the 1970's and you can see what happens.
The good news is… Owning real estate is a great hedge against inflation. Leveraged real estate (carrying a mortgage) is even better, because you get to pay back that loan with low-value future dollars.
In addition, compare renting to buying. Rental rates tend to go up faster than inflation (making it harder to afford to rent). As rental prices continue to rise in the Puget Sound, locking in mortgage payments at a fixed (and historically low) interest rate can keep your largest monthly cost the same.
Another big takeaway: Home price appreciation has outperformed inflation for decades.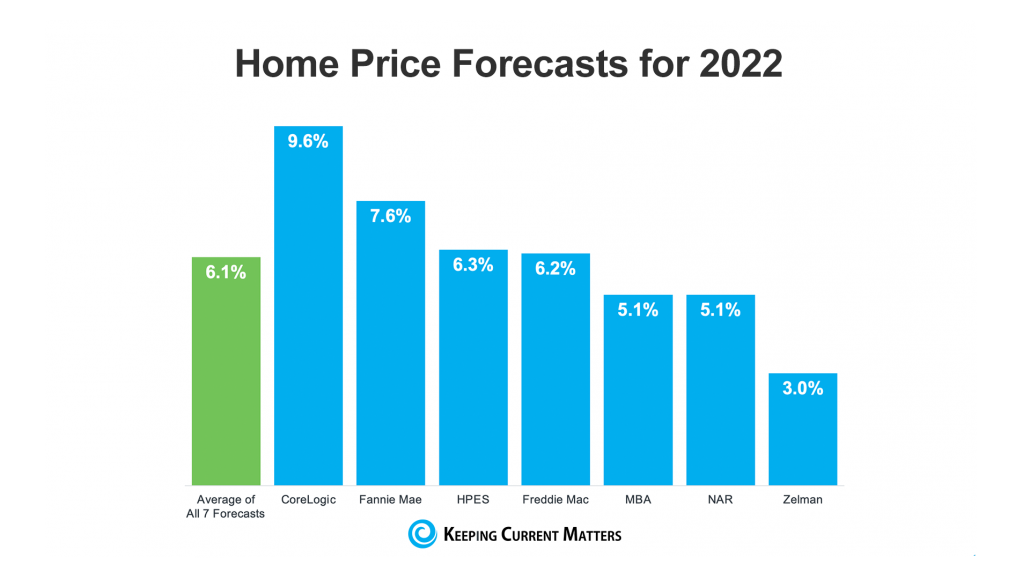 Buyers Wonder: Should I Buy Now, or Wait?
As discussed, industry experts are projecting that prices will continue to go up from here, for the foreseeable future.
There are many benefits to home ownership. In the past few years, we've appreciated our homes like never before as a refuge of safety and security in an uncertain time. However, what I haven't mentioned as much as I probably should since I am an investor myself, is that home ownership has consistently been recognized as one of the best long-term investments people can make.
When people tell me they are not goign to buy and are waiting for the marekt to turn around, I think one of two things: They don't have the money to buy a home, or they don't like the homes they can afford to buy.
And this is unfortunate, because when it comes to the Seattle real estate market, this has been a costly mistake for many over the past several decades. At this point, waiting for the market to cool off or prices to go down likely means paying more later for the exact same house. Especially as experts project mortgage rates will continue to rise.
Even if you can't afford your dream home yet, getting your food in the door with a "starter home" can help home buyers build wealth and keep pace with the market, while they wait to build toward buying the home of their dreams.
Get Educated About The Real Estate Market
The defining factor between making good and bad decisions in this hot real estate market is getting EDUCATED about what is happening – with good data, and good advice from an agent who is active in the marketplace.
This may be a competitive market for buyers and sellers. It's also cutthroat for agents competing for listings. If you want to make a smart decision with the purchase or sale of your home, who you work with matters. Choose an agent in the trenches.
You need data, facts and expert insights and that's what we're here to provide.
That's why we're offering a free consultation to help you answer the toughest questions in one of the toughest markets ever. Contact us to get your questions answered.