My Predictions: Real Estate Agent Emily Cressey Predicts The Seattle, WA Housing Market Changes Due To Rising Interest Rates In The Area
We have seen interest rates go up more since January than they did in the entire 8-year period prior. Now the market is "suffering" from higher interest rates, we've seen new buyer home loan applications reduce by 12%. More homes are sitting on the market longer, and not selling on their offer review dates. Of the ones that do sell, we are seeing 5 or fewer offers in most cases, rather than the 10+ offers that were commonplace before.
What Will Happen To The Seattle Housing Market Now?
Now that our historically-low interest rates are not as low as they once were, many people are asking me what will happen to the market.
The graph shows the only time home values dropped significantly was during the housing boom and bust of 2006-2008. If you look at how prices spiked prior to 2006, it looks a bit like the current spike in prices over the past two years. That may lead some people to be concerned we're about to see a similar fall in home values as we did when the bubble burst.
The truth is, many homes have become LESS affordable for buyers. In some areas, I am seeing homes sit on the market for more than a week before going under contract. Not that that's the end of the world, but it's becoming increasingly common as buyers and sellers struggle to make sense out of the quickly shifting market.
The good news is that the underlying fundamentals are strong this time, in a way they weren't before. The Deputy Chief Economist at First American, reports: "Homeowners in Q4 2021 had an average of $307,000 in equity – a historic high."
With that much equity, we should not see the spate of foreclosures brought on by low equity houses funded by adjustable rate mortgages.
You can still sell your home for a high price, and people won't be forced to sell by changes in their monthly payments brought on by adjustable rate loans. I don't think we'll see a crash like we did before because borrowers currently have good, solid loans in place.
We still have way more buyers than sellers.
The biggest impact of the rising interest rates will on buyers, who will have to downgrade their expectations on what they can afford. Low-end buyers and investors may be edged out of the market.
Home values should continue to increase, helped along by inflation and our imbalance, buyer-heavy marketplace.  If you have questions or want to discuss the economic models behind this update, feel free to reach out or write a comment below.
Don't Let Rising Inflation Delay Your Homeownership Plans [INFOGRAPHIC]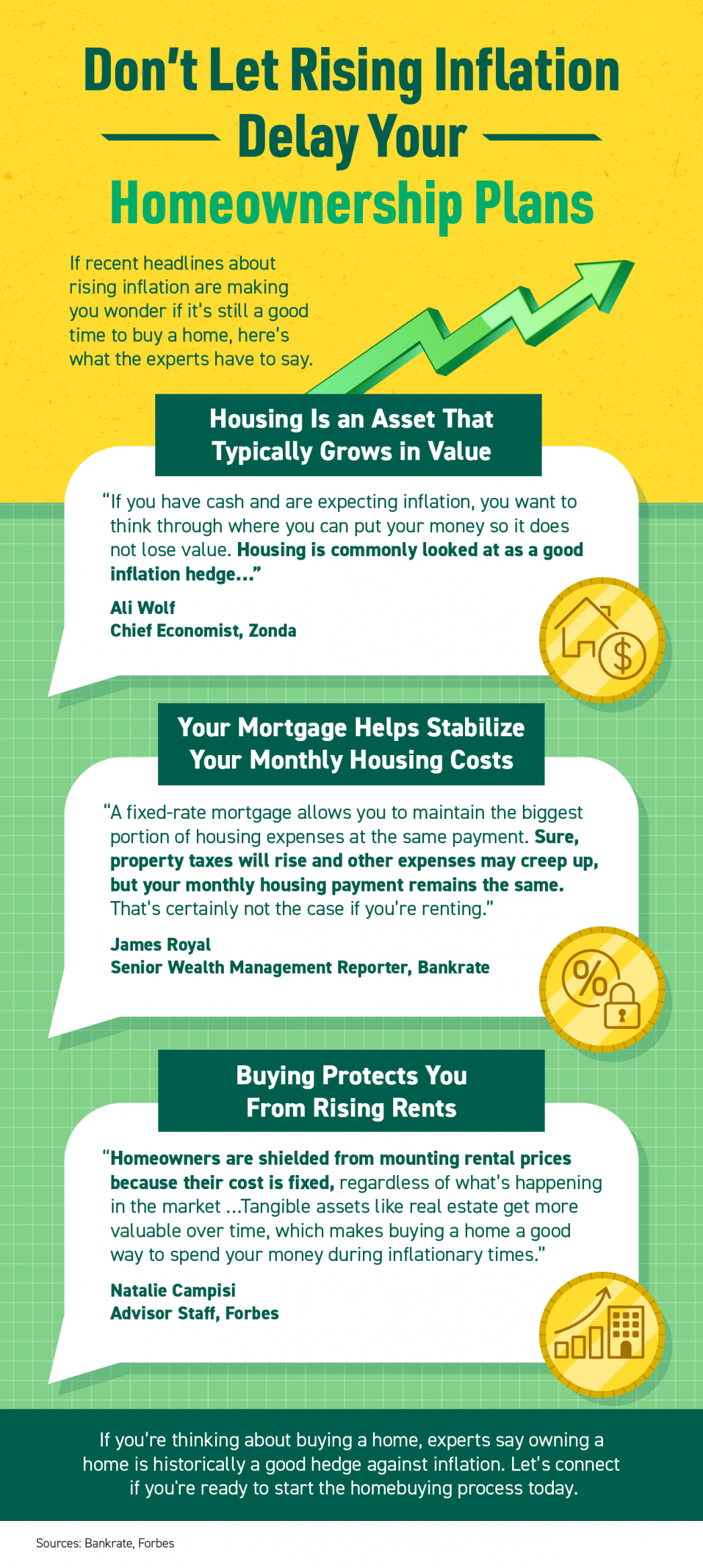 Some Highlights
If recent headlines about rising inflation are making you wonder if it's still a good time to buy, here's what experts have to say.
Housing is an asset that typically grows in value. Plus, your mortgage helps stabilize your monthly housing costs, and buying protects you from rising rents. Rents typically rise FASTER than inflation.
Experts say owning a home is historically a good hedge against inflation.
For more weekly updates on the Seattle Housing Market, subscribe to our newsletter on the opt-in form on this page.
Let's connect if you're ready to start the homebuying process today. Otherwise, I'll see you on the next update. Thanks for reading and watching. 
I'm Emily Cressey, and here at HomeSmart Real Estate – We do more.