Can your home in Shoreline, WA be a good investment for you? Renting vs. Buying Pros and Cons – What's the right choice for you?
If you're currently renting a home in Shoreline, Washington and you're thinking of making the jump to buying property in the Shoreline, WA area, you may be wondering if it will turn out to be a good investment for you. There are a lot of Pros and Cons to renting vs buying and it's a good idea to weigh your choices carefully before deciding what to do.
First and foremost, let me warn you: Home ownership takes money. Even though you may be able to get into a property as a first time buyer, it may NOT be the wisest thing to do if you are not financially prepared and in a good "life phase" to settle into home ownership for the long haul.

Let Me Start With Some Of The Cons of Home Ownership in Shoreline, WA: Even though I am a real estate broker here in Shoreline, WA and I love helping first time home buyers get into their first property and make the transition from renting to owning, I think it's important to go into the transaction with your eyes open so you can feel like you make a good choice to buy property and aren't left feeling house poor, overwhelmed or siting on top of unexpected expenses that you really can't afford.
Renting vs Buying: Pros and Cons
CONS of Buying: #1 The Expense Of Ongoing Maintenance
The first CON that I want to point out is that it takes money to own real estate. It's not just buying the property that's expensive, owning it can create unexpected monetary costs. Just like your car needs an oil change and new tires and occassionally a major overhayul, a home is uch the same way. There are minor reapirs to take care of here and there, like cleaning out the gutters and changing out the filters in the air vents. And then there are the bigger costs that come up less often: a new roof, a new furnace, re-painting the exterior, and so-on.

The Pros here are that a lot of the items you can take care of if you're handing around the house. Even if you're not handy, with a little help from our friend YOUTUBE and a few trips to your local hardware store, you can BECOME handy around the house and save yourself a lot of money on home repairs… because often you're paying more for labor than you are for material and suppleis.
Of course, it's unlikely that you'll end up re-roofing your own home, so it's good to start a little savings account for your home to take care of the expenses that are bound to come up sooner or later. Of course, if you are worried about the "CON" you can avoid it (mostly) by buying a condo or townhouse where the HOA takes care of the maintenance. Or you can avoid the CON by buying a home that has been recently bee built or remodeled, so a lot of the deferred maintenance will have already been taken care of. Since most people plan to stay in their house for about 10 years on average, you may be able to sell it again before it comes due for more maintenance work.
Renting vs Buying: Pros and Cons
CONS of Buying: #2 The Expense Of Selling Your Home
When I say money, the one that most people don't think about or consider is the expense of selling your home. Yes, it costs money when you sell. Even though you walk away with a big check, you may still have to invest in getting the home ready to put on the market – new paint and carpet are common improvements. Washington state also charges and excise tax or sales tax on the sale of the home that is about 1% of the sales price so that can be expensive. And in addition there are the other transaction costs and closing costs associated with the sale of real estate including real estate commissions, escrow fees, title insurance, documents recording fees and so on.
Renting vs Buying: Pros and Cons
Cons of Buying: #3 – Lack of Flexibility
If you are at t time in your life where you think you may have a lot of transitions coming up – getting married, changing jobs, having a baby, moving to a different area, taking care of aging parents, etc. then it may not be a good time for you to buy a house. You may find you need more/less space than you originally anticipated or need to sell and move when it's not an opportune time. Loss of flexibilty is a major con to home ownership, due to the expenses involved in real estate transactions. That's why many people wait until they feel settled in an area before they buy a hosue. Of course, if you want to get into real estate but konw that changes are in your near future, you can buy with that in mind. Some people plan to convert their first home into a rental property, air BNB, student rental, bring in roomates, or otherwise have a contingency plan that will help them cover the costs of the home (without selling) when their plans change.

Now, let's switch over to an examination of some of the PRO's of buying and owning your first home in Shoreline, WA.
Renting vs Buying: Pros and Cons
Pro of Buying #1: Stability & Predictability
When you are a tenant, you are not the master of your domain. Your landlord cna change things up on you any time. From hefty rent increases, move-out notices, fialure to handle mainteannce, or giving away your parking spot, there a re lot of things your landlord can do tyat you may not like. You've probably experienced a few of them yourself if you've been renting as a teannt in Shoreline, WA for any significant lenght of itme. Howver, when you own your own home, you are incontrol for the most part. You[ll still have expenses that will change… you may have rising property taxes and insurance rates, but your mortgage payment will be locked in, assuming you get a fixed rate loan. It's nice for your family and kids to know that you've got a place to call home and though it may be humble, it is yours and you won something. This is a very empowering feeling.
Rent Will Continue to Increase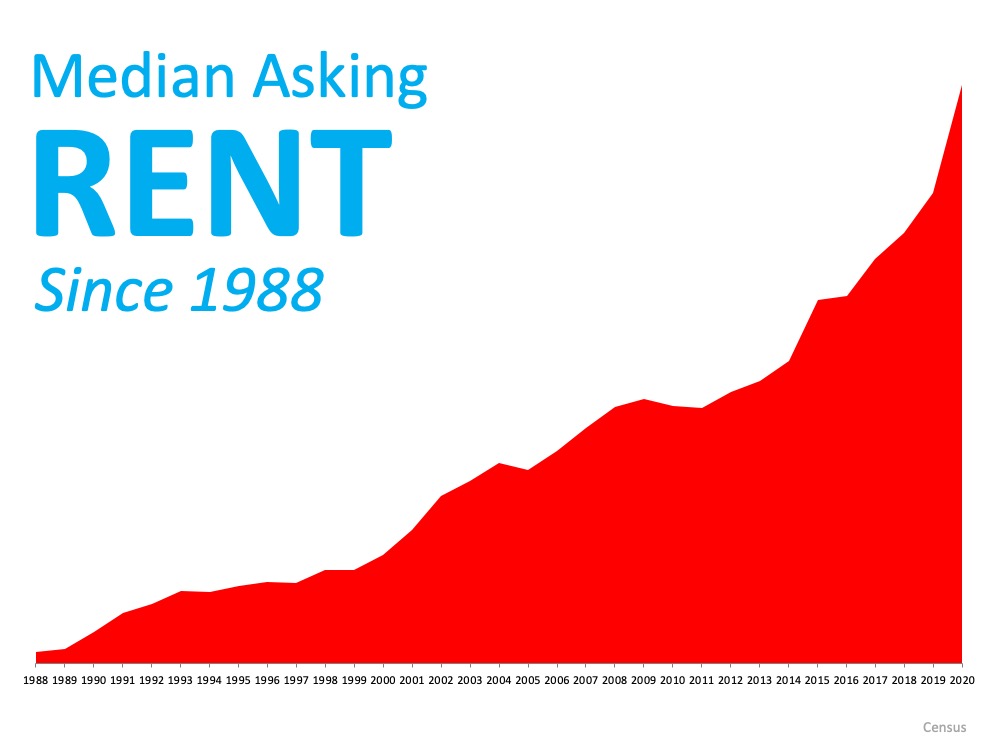 This is one of the top reasons why renters decide to move: In most cases, rent will continue increasing each year. As noted above, the U.S. Census Bureau recently released its quarterly homeownership report, and as the graph above shows, median rent is climbing year after year. When you own a home, you'll lock in your monthly payment for the life of your loan, creating consistency and predictability in your payments.
Renting vs Buying: Pros and Cons
Pro of Buying: #2 Increasing The Value Of Your Home
In addition, you'll have the ability to improve your property over time. If you've ever rented a house and done a few things around the yard or interior to brighten things up, it's probably bothered you in the back of your mind that time and money you spent on these improvements would ultimately accrue to the benefit of your landlord and not you. Well, as a home owner, you have the opportunity to make the house nicer and not only benefit while you live there, but potentially benefit quite a bit on the resale of the home if you've made changes that have increased the value long term. This can include things like putting in new flooring, painting, landscaping, and more.
Renting vs Buying: Pros and Cons
Pro #3: Your Housing Expenses Seem Smaller Over Time
You've heard about Inflation. T he hamburger that cost $1.00 ten years ago, now costs $2.00. Money gets less valuable over time. So this works in your favor when you are paying a mortgage. Although it might be a stretch and seem expensive today, it will be increasingly affordable as the years go by. As you advance in your career, you'll bring in more money, and as inflation eats away at the value of the dollar, the amount your selling out for your mortgage will seem smaller and smaller as the years go by.
Renting vs Buying: Pros and Cons
Pro #4: Appreciation Builds Your Wealth
Probably the most compelling reason to consider buying a home in Shoreline, WA is the potential for the home to increase in value over time. Many homeowners have found that their home quickly becomes their most valuable asset and as the value goes up over time and the mortgage is paid down, and your equity grows. This can provide a sizable nest egg when you sell your home… allowing to get into a bigger home in the future, or providing for your retirement.
One of the best ways to build your family's financial future is through homeownership. Recent data from the Federal Reserve indicates the net worth of a homeowner is actually over 40 times greater than that of a renter. Maybe it's time to start thinking about buying a home, especially when today's low interest rates are making homes more affordable for first time buyers and move-up buyers.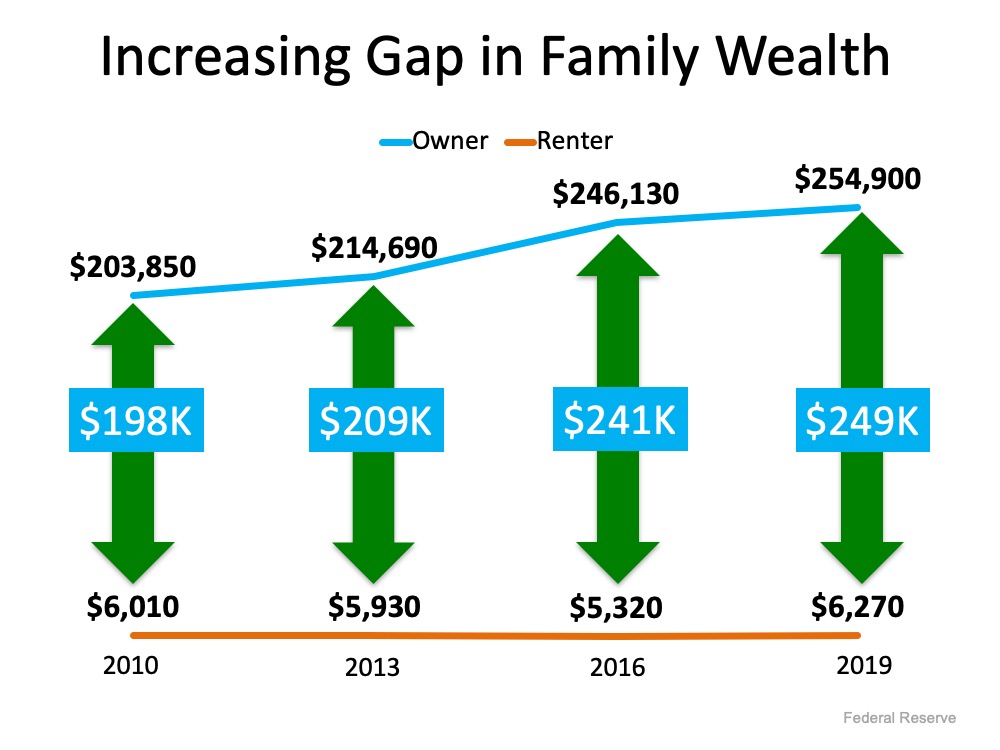 Every three years the Survey of Consumer Finances shows the breakdown of how owning a home helps build financial security. In the graph below, we see that the average net worth of homeowners continues to grow, while the net worth of renters tends to hold fairly steady and be significantly lower than that of homeowners. The gap between owning and renting just keeps getting wider over time, making homeownership more and more desirable for those who are ready.
Can Owning Your Own Home Help You Build Wealth?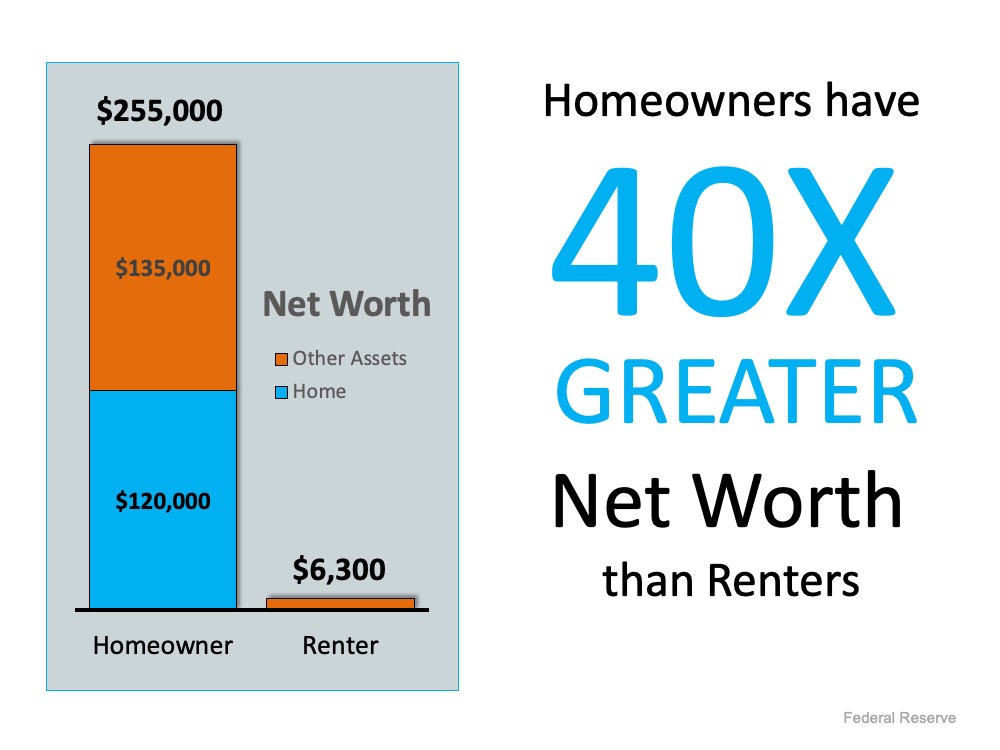 For many families, homeownership serves as a form of 'forced savings.' Every time you pay your mortgage, you're contributing to your net worth by increasing the equity you have in your home:The impact of home equity is part of why Gallup reports that Americans picked real estate as the best long-term investment for the seventh year in a row. According to this year's survey, 35% of Americans chose real estate over stocks, savings accounts, gold, and bonds.
Today, there are great opportunities available for those planning to buy a home. The housing market has made a full recovery, and all-time low interest rates are giving home buyers a big boost in purchasing power. If you're ready, buying a home can set you up to increase your net worth and create a safety net for your family's future.

So, let's take a moment to examine this more closely and understand whether the appreciation of your Shoreline, WA home is likely to turn it into the biggest pro of home ownership, of all!
Will Your Shoreline, WA House Be A Good Investment?
That's a great question.  While no one can predict the future, looking at past trends and current data can give us a good idea of what to expect.

First let's start with some numbers: A Starter 3-bedroom home in Shoreline, WA is going to be about $600K in today's market.
Over the last 10 years in Shoreline, historical appreciation rates have been over 8% per year. Now that may be a little higher than we can expect, because it include the time that the market was recovering from the 2008 crash. 2011 would certainly have been a good time to buy, but we can't go back, we can only go forward. Zillow is predicting 11.8% appreciation this year. I've seen other sources that say 7. Let's be conservative and say we'll average around 6% appreciation over the next 10 years.
If that estimate were to be realized, the value of your property that's worth $600K today, could be worth over a million dollars in 10 years, which is the length of time people own their homes on average these days.
And in that 10 years, your mortgage balance would be paid down to about $425,000.
That means your equity position would be: $1,074,508.62


Home Value $1,074,000
– Mortgage Balance $ 425,000
Equity $ 649,000


So, while you've been living in your house and enjoying life for the last ten years, your home has been working in the background to build your wealth.

This is why it can make sense to stretch yourself and pay a little more each month to be a home owner, because in the long run homes in the Shorline, WA area have proven themselves to be a major driver of wealth accumulation for many families fortunate to live here.

Of course, bear in mind that you will have the responsibilities of home ownership and maintenance… things to do wear out and need to be replaced from time to time, but clearly

Let's compare that to a scenario where you continued to rent a similar house for $2,000 per month put the $1500/month savings (less than your PITI for mortgage) in the stock market.

Remember to include your $60,000 down payment for the home, too.

If you put all that money into stocks for 10 years and the market returned at its historical average of 10% rate of return, your investment would be worth: $455,420.


So, clearly we're using a lot of assumptions here and simplifying the math. I'm not saying it makes sense for everyone who's currently renting to buy, but it could be a good investment to own a home in Shoreline, Washington.

If you want to increase your returns even more, consider trying a "house hack" in Shoreline, WA and buying a duplex, triplex or four-plex.

When you buy a multi-unit building, you can often use the projected rental income to help you qualify for the loan.

If you bought this four-plex off Ballinger Way in Shoreline, WA for $1 million bucks, you could put 10% down ($100,000), rent out each unit for $1000-1500.  If you lived in one, you could manage it yourself and take in about $4,000/month in rent to help offset the $6,000/month PITI.  Your "housing payment would be $2,000/month which is over the market value for living in this type of rental unit, but you'd get favorable financing terms and be riding any appreciation up over time.  When you no longer wanted to live there, you could rent out the unit and continue to hold the property.  If it increased in value at 6% a year, it would be worth about $1.8 million in 10 years.
You'd need to add some numbers to cover maintenance, vacancy, and repairs, but this should give you a rough idea of the investment potential of house hacking in Shoreline, WA.

https://www.cchwebsites.com/content/calculators/AnnualReturn.html
If you have any questions about the value of your current home, or finding a future house, house hack" or rental property in the Shoreline, WA area, I would be happy to talk to you about your options and what the numbers look like.
How Can We Help You?
We would love to hear from you! Please fill out this form and we will get in touch with you shortly.