Selling Your House Is the Right Move, Right Now [INFOGRAPHIC]
Real estate agent walks into a bar…. bartender asks, "How's the market…?"
Sorry, there's no punchline coming, but this is one of the most common questions that realtors are asked because everyone wants to know what the Seattle Real Estate Market is like in general, and what their property might be worth, in particular.
If they're thinking about buying a property, they want to know if it's a "good time to buy," and if they should "wait til the market cools off so they can get a good deal."
If you've been wondering about the Seattle, WA real estate market and whether it's truly a good time to sell or not… take heart!
We are seeing shockingly low "inventory" – that means very few houses are for sale. All the buyers are out looking for a bigger, better post-covid house, and trying to take advantage of the low interest rates.
Did Corona Virus Have An Impact?
Many buyers (and investors!) expected COVID to tank the economy and were perhaps waiting to see what would happen when tenants left, people moved out of the cities, and the house of cards started falling.
It hasn't been easy, I have several tenants in my shopping center that are nearly out of business, and have seen closed and shuttered shops and service providers in all parts of town. However, thanks to Federal bail out money, loans, and extremely low interest rates, so far the real estate market seems to be holding its own. We'll see how deep the pockets are of all the landlords in town who are having to cover the mortgage for tenants who aren't making their rent. It's been difficult, but we will come through this!

Check out this informative info graphic that will explain WHY, if you've been thinking about selling, now might be the perfect time!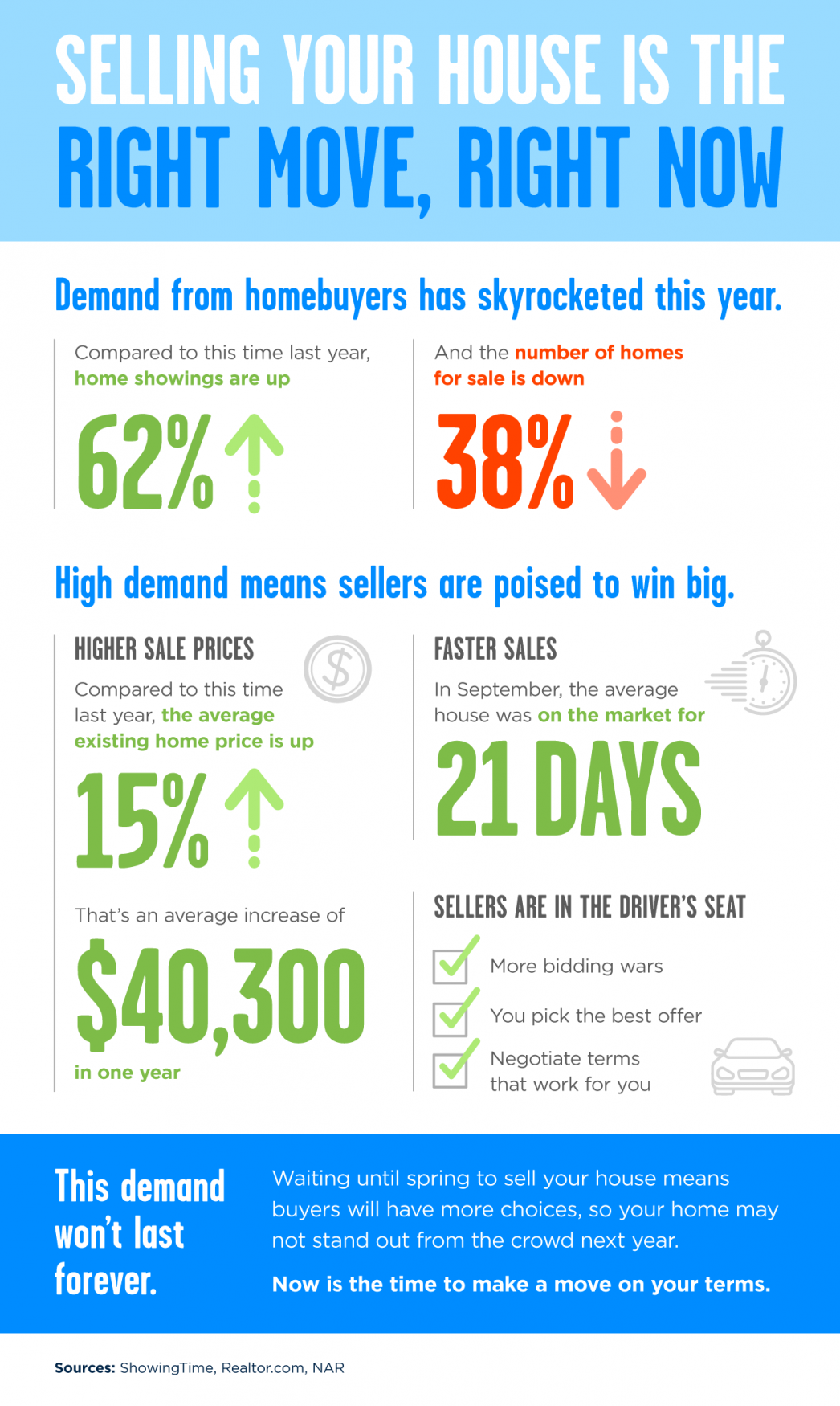 Some Highlight From The Seattle Real Estate Market
Note that the info graphic above is based on national figures, but the fact remains that demand from Seattle area homebuyers has skyrocketed this year. Seattle is leading the corona-recovery charge on the national stage.
That means today's sellers are poised to win big. This is an ideal moment in time to sell your house, but it won't last forever.
With more sellers coming to the market in the spring, waiting until next year means buyers will have more choices, so your home may not stand out from the crowd.
Let's connect today to discuss why now may be the right time to make a move on your terms.
Reach Out To Emily Cressey, Seattle Real Estate Broker For Detailed Real Estate Market Analysis
If you've been wondering whether now is a good time for you to consider selling your property, why don't you get in touch with us and let us know where you live so we can dial in to the specifics for your area. For example, while single family homes are flying off the shelves with multiple offers, things are moving much slower in the condo marketplace. All real estate is local. I am happy to assess your "micro" portion of the Seattle real estate market at no charge and give you a better understanding of where you sit.
How Much Is Your Puget Sound Home Really Worth?
Fill out the short form below to get a FREE 100% Accurate Home Value Report for your Puget Sound house with up to date nearby "sold" data and our recommendation on the trend of home values in your neighborhood.